Buongiorno!
Iniziamo la settimana con la mia opinione su "Unravel the Dusk", il secondo e ultimo libro della serie di Elizabeth Lim, cominciata con Spin the Dawn (ve ne ho parlato
QUI
).
Titolo: Unravel the Dusk
Autrice: Elizabeth Lim
Casa editrice: Oscar Mondadori
Data d'uscita: 31 agosto 2021
Pagine: 348
Prezzo: €20,00 (ebook €9,99)
TRAMA
Maia Tamarin ha già dimostrato di essere la più abile sarta del paese. Ha sbaragliato gli altri concorrenti nella gara con cui l'imperatore ha scelto il nuovo sarto imperiale. Ha viaggiato fino ai confini del mondo per procurarsi la risata del sole, le lacrime della luna e il sangue delle stelle. E con questi tesori ha cucito tre abiti magici, ciascuno degno di una dea. Ma le prove per lei non sono ancora terminate. Al ritorno dal suo viaggio, il regno è sull'orlo della guerra e Edan, il ragazzo che ama, è sparito. Forse per sempre. La guerra che impazza non è niente a confronto della battaglia che Maia combatte contro se stessa. Da quando è stata marchiata dal demone Bandur non è più la stessa... La posta in gioco è più alta che mai, ed è solo questione di tempo prima che Maia si perda completamente. Ma non si fermerà davanti a nulla pur di ritrovare Edan, proteggere la sua famiglia e garantire al suo paese una pace duratura.
La duologia:
1. Spin the Dawn
2. Unravel the Dusk
RECENSIONE
Oggi parliamo del secondo e ultimo volume della serie "Il sangue delle stelle", cominciata con "Spin the Dawn".
Avevamo lasciato la nostra protagonista alle prese con la sua trasformazione in demone: dopo il patto stretto con Bandur per permettere a Edan di essere libero, Maia sta pian piano diventando un demone e, pur sapendo che usare la magia non farà che accelerare il processo, è decisa a continuare a proteggere il suo popolo e la terra. Un'altra guerra è in arrivo e le probabilità che il regno non soccombi sono basse. Maia sarà davvero la salvezza del suo popolo, o finirà per esserne la distruzione?
Questo secondo volume mi è piaciuto leggermente meno rispetto al primo, perché la prima parte non mi ha coinvolta al 100% (anche se rimane comunque una lettura veloce e che si conclude in fretta).
Qui l'autrice si discosta dalle fiabe e dai retelling per dedicarsi a una trama più originale, che ha comunque qualche collegamento con Mulan, ma più lieve rispetto a Spin the Dawn.
Fortunatamente in questo secondo volume possiamo conoscere meglio Lady Sarnai, che mi aveva incuriosita molto già dalla sua prima comparsa e che ora ha decisamente un ruolo più importante per la storia.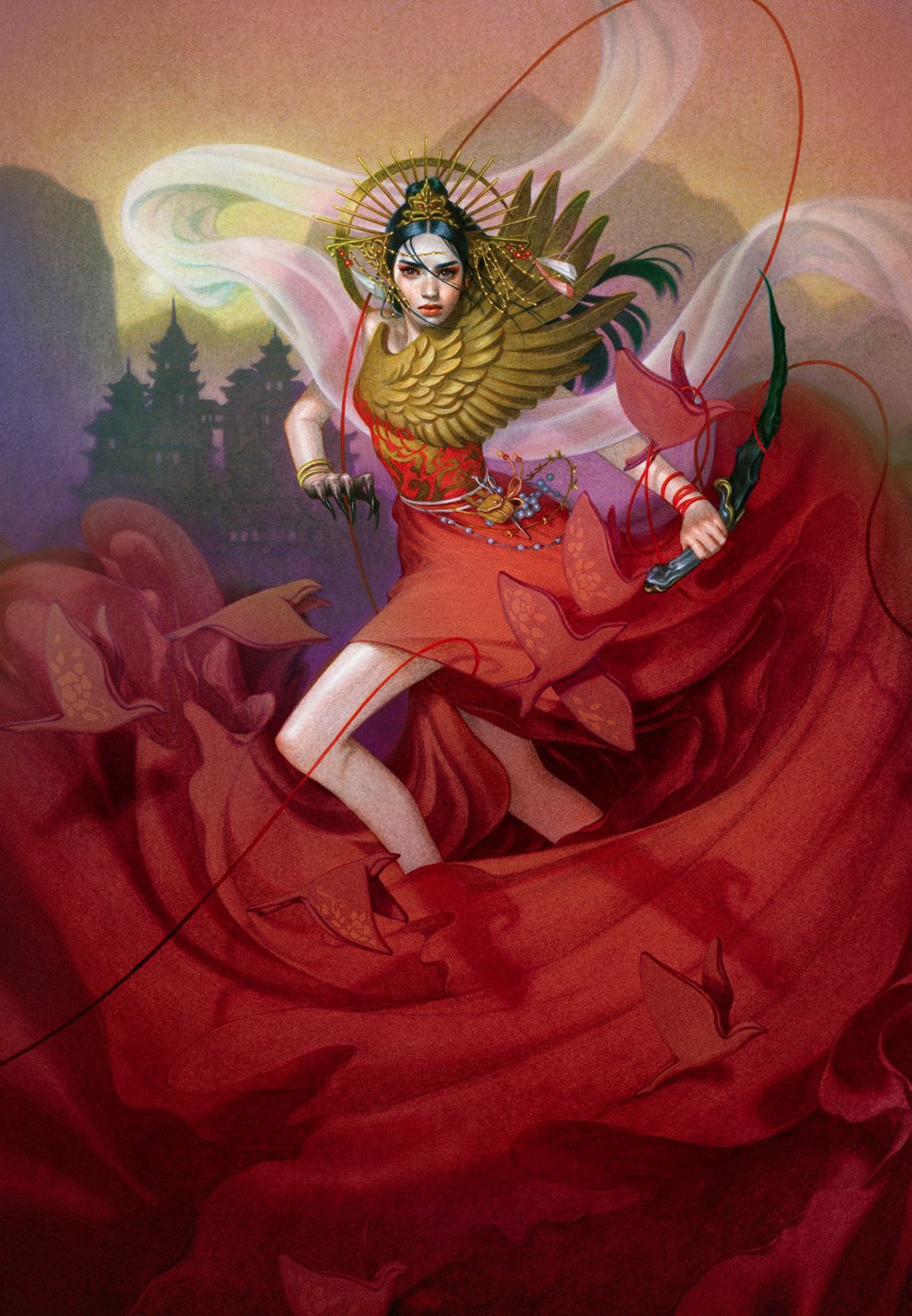 Lo stile dell'autrice è sempre molto scorrevole e le pagine si divorano in fretta, anche se la prima metà mi è risultata un po' più pesante da leggere, principalmente perché Maia è da sola ad affrontare la sua trasformazione in demone. Questo coinvolgimento nella mente della protagonista rende il romanzo più cupo e dark, ma l'autrice ha saputo gestire bene anche questo cambiamento. Certo, la mancanza di Edan nella prima metà del libro si sente, ma le sue successive comparse e il finale dolcissimo compensano la sua assenza iniziale.
Ho apprezzato tantissimo entrambi i protagonisti: lei perché ha un grande senso del sacrificio e molto amore per la sua famiglia, lui perché è proprio un bravo ragazzo, sempre pronto a supportare Maia, senza però imporsi su di lei.
Come dicevo, il finale mi è piaciuto tantissimo, perché l'ho trovato giusto e adatto al tipo di storia che l'autrice ha voluto raccontare, anche se forse la battaglia conclusiva è stata un po' affrettata.
Nel complesso, ho apprezzato molto questa duologia, che secondo me è adatta anche a un pubblico giovane per lo stile semplice con cui è scritta. Non è perfetta, ma se cercate un bel retelling, una lettura veloce e qualcosa incentrato sulle tradizioni orientali e la sartoria, allora questa serie fa per voi!
Il mio voto:
Che ne pensate? Lo avete letto? Lo aspettavate? Fatemi sapere!
A presto,
Silvy