Buongiorno!
Iniziamo la settimana con la recensione in anteprima del nuovo romanzo di Elle Kennedy, uscito ieri in America. Si tratta del primo libro della serie spin-off della Off-Campus, ma ancora non sappiamo se Newton la porterà in Italia (spero di sì, però).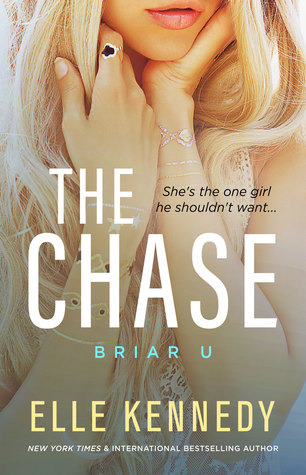 Titolo: The Chase
Autrice: Elle Kennedy
Data d'uscita: 5 agosto 2018
Prezzo ebook: €2,99
TRAMA
Everyone says opposites attract. And they must be right, because there's no logical reason why I'm so drawn to Colin Fitzgerald. I don't usually go for tattoo-covered, video-gaming, hockey-playing nerd-jocks who think I'm flighty and superficial. His narrow view of me is the first strike against him. It doesn't help that he's buddy-buddy with my brother.
And that his best friend has a crush on me.
And that I just moved in with them.
Oh, did I not mention we're roommates?
I suppose it doesn't matter. Fitzy has made it clear he's not interested in me, even though the sparks between us are liable to burn our house down. I'm not the kind of girl who chases after a man, though, and I'm not about to start. I've got my hands full dealing with a new school, a sleazy professor, and an uncertain future. So if my sexy brooding roomie wises up and realizes what he's missing?
He knows where to find me.
La serie Briar U:
1. The Chase
2. The Risk (febbraio 2019)
3. Untitled
...?
RECENSIONE
Dopo aver amato la serie Off-Campus (in Italia è stata pubblicata da Newton Compton), sono stata felicissima di sapere che l'autrice avrebbe pubblicato una serie spin-off sugli altri giocatori della Briar. Per ora siamo a conoscenza di due volumi, ma la Kennedy non ci ha ancora detto di quali libri sarà composta.
In "The Chase" ritroviamo Summer, l'eccentrica sorellina di Dean Di Laurentis, e Fitzy, o meglio Colin Fitzgerald, un amante dei videogiochi che non ama stare sotto i riflettori.
Già nella serie madre l'incontro tra questi due mi era piaciuto un sacco e mi aveva fatto adorare subito Summer, ma in questo libro vediamo che i due devono superare diversi ostacoli prima di stare insieme, soprattutto da parte di Fitz: il suo passato non gli permette di aprirsi totalmente nei confronti di una ragazze che sta sempre sotto i riflettori sia l'opposto di lui. Summer, però, è determinata nel dimostrargli che non è solo una ragazza superficiale e frivola che ama la moda e le feste, ma che in fondo ha anche della sostanza. E comunque, gli opposti si attraggono, no?
Mi sono piaciuti molto entrambi i personaggi: Summer perché è solare e frizzante, ma è anche una femminista che aiuta gli altri, è gentile e, strano ma vero, per niente vanitosa. Ama la sua fantastica famiglia (finalmente vediamo una famiglia più che decente in un romance), adora prendere in giro i suoi fratelli, ha una passione per la moda e i suoi spiriti guida sono Chanel e Selena Gomez. L'ho apprezzata sin da subito.
Colin Fitzgerald è riservato, un lupo solitario pieno di tatuaggi e che ama i videogiochi, tant'è che sta lavorando per crearne di suoi. Nonostante le piaccia molto Summer e sia attratto da lei, ha paura di esprimere i suoi sentimenti e di finire sotto la luce che sembra circondarla perennemente. Ma abitare con lei come coinquilina gli permette di capire che forse, per lei, ne vale la pena.
La loro chimica è evidente, ma ci vorrà un po' prima che i due inizino a fare sul serio e questo ci permette anche di vedere come pian piano si innamorino. Certo, a volte era un po' frustrante aspettare che si dessero una mossa, ma il drama, l'angst e le emozioni forti sono ciò che più amo negli sport romance e nei new adult in generale, per questo la Kennedy mi piace così tanto.
Inoltre l'ho divorato in un giorno grazie allo stile scorrevole e divertente dell'autrice, che mi ha fatto anche sorridere spesso, soprattutto grazie a Summer e ai suoi discorsi mentali con Selena Gomez :D
Nemmeno i personaggi secondari scherzano, perché Brenna mi è piaciuta tantissimo sin dal suo primo incontro con Summer che le segna come migliori amiche all'istante. Non vedo l'ora di leggere la sua storia in The Risk a febbraio, e credo anche di aver capito chi sarà il suo interesse amoroso (e se ho indovinato, sarà una bomba di libro).
Ma ciò che davvero mi ha fatto apprezzare il romanzo e che mi ha permesso di aggiungere mezzo punto in più è stata la bravura della Kennedy di parlare di temi importanti come i disturbi dell'apprendimento e l'ADHD (per chi non lo sapesse è il disturbo da deficit di attenzione e iperattività), il femminismo e le molestie sessuali. In un clima come quello di oggi, credo che abbia fatto bene a farlo e questo ha reso la storia molto più ricca di un semplice romance.
E poi, rincontrare i personaggi che ho amato nella serie principale non ha prezzo! Spero di vedere un matrimonio nei prossimi libri, magari quello di Garrett e Hannah *--*
Se cercate una storia romantica che si legge in fretta, con personaggi interessanti e temi attuali, questo libro potrebbe fare per voi, e il livello d'inglese non è difficilissimo.
Vi lascio con questa conversazione tra Fitz e Dean, grazie alla quale tutto è iniziato :D
Il mio voto:
Che ne pensate? Chi lo aspetta? Fatemi sapere!
A presto,
Silvy