Buongiorno!
Oggi comincia la carrellata di uscite previste per quest'autunno! Tra le tante pubblicazioni odierne, stamattina vi parlerò di Spin the Dawn e, tra qualche ora, anche di Heartstopper vol. 4.
Titolo: Spin the Dawn
Autrice: Elizabeth Lim
Casa editrice: Mondadori
Data d'uscita: 31 agosto 2021
Pagine: 396
Prezzo: €20,00 (ebook €9,99)
TRAMA
MAIA TAMARIN LAVORA COME cucitrice nella bottega del padre, un tempo rinomato sarto.
Ciò che desidera è diventare la migliore sarta del paese, ma sa che come donna il massimo cui può ambire è un buon matrimonio.
Quando un messaggero reale convoca a corte il padre, gravemente malato, Maia finge di essere suo figlio e si reca al Palazzo d'Estate al suo posto. Sa che perderebbe la vita se venisse scoperta, ma correrà il rischio per salvare la famiglia dalla rovina e diventare sarta imperiale. C'è però un problema: Maia è solo una dei dodici che aspirano all'incarico.
E nulla avrebbe mai potuto prepararla alla sfida che la attende: cucire tre abiti magici per la promessa sposa dell'imperatore, uno intessuto con la risata del sole, uno ricamato con le lacrime della luna e uno dipinto con il sangue delle stelle.
In compagnia di Edan, il misterioso stregone di corte, i cui occhi penetranti sembrano vedere oltre il suo travestimento, Maia intraprenderà un viaggio che la porterà fino agli estremi confini del regno, alla ricerca del sole, della luna e delle stelle. Ma troverà qualcosa che non avrebbe potuto mai immaginare.
La duologia:
1. Spin the Dawn
2. Unravel the Dusk…
RECENSIONE
Arriva finalmente in Italia una duologia molto popolare all'estero, che è stata presentata come una sorta di retelling di Mulan, ma con elementi presi anche da Aladdin.
La protagonista è Maia Tamarin, la figlia di un sarto che anni prima era molto rinomato. Durante la guerra che incombe sul suo paese, Maia perde due dei suoi tre amati fratelli maggiori, e il terzo torna a casa storpio. Con il padre che è ancora addolorato per la morte della moglie avvenuta anni prima, Maia è l'unica in grado di portare avanti il negozio di famiglia, avendo imparato a cucire sin da bambina. Quando un ministro giunge alla sua porta per richiedere che il padre o il fratello vadano a palazzo come nuovo sarto imperiale, Maia si vede costretta a prendere il loro posto, ma per farlo si deve travestire da suo fratello. Per legge, infatti, le donne non possono diventare sarte imperiali. Una volta giunta a palazzo scopre che dovrà dimostrare il suo valore in una competizione contro altri famosi sarti. Ma non finisce qui, perché l'imperatore le affiderà un compito impossibile: cucire tre abiti magici: per farlo, lei è Edan (lo stregone dell'imperatore) partiranno alla ricerca di tre oggetti leggendari, la risata del sole, le lacrime della luna e il sangue delle stelle. Il destino dell'impero è nelle mani di Maia, riuscirà nell'impresa?
Spin the Dawn è stata una lettura molto accattivante e veloce: sicuramente lo stile dell'autrice è perfettamente adatto a un pubblico di adolescente, perché è in grado di catturare subito l'attenzione e di mantenerla fino alla fine. Mentre leggevo non mi accorgevo nemmeno di quante pagine stessi divorando, perché la storia scorre come l'acqua.
Uno degli aspetti più interessanti è stato scoprire tutti i riferimenti a Mulan e Aladdin: l'autrice ha inserito dei particolari facilmente riconoscibili e li ha gestiti molto bene, riuscendo però a produrre una storia originale.
I personaggi sono ben caratterizzati, specialmente la protagonista che mi è piaciuta molto. Non manca nemmeno la parte romance: ho adorato i loro battibecchi iniziali e il modo in cui si sono avvicinati l'uno all'altra, anche se la storia d'amore è stata, a mio avviso, un pochino affrettata verso la fine, ma niente di grave.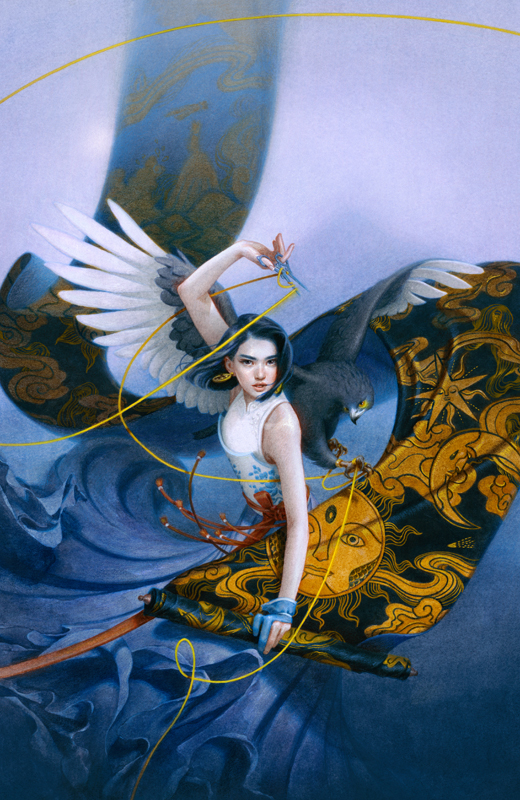 L'unica pecca che ho notato è che la prima e la seconda parte sono molto distaccate, quasi come se fossero due storie diverse, o quantomeno due libri diversi nella stessa serie: la prima parte è molto ispirata a Mulan, mentre la seconda si concentra di più su Aladdin ma, nonostante ci sia ovviamente una trama logica che le unisce, avrebbero potuto essere legate in maniera più fluida e omogenea.
Diciamo che lo stile super scorrevole e le tematiche trattate rendono questo libro uno young adult perfettamente godibile anche per i più giovani.
Ve lo consiglio se:
vi piacciono i retelling,
vi piacciono la moda o i libri incentrati sui vestiti,
cercate una lettura molto scorrevole e veloce, ricca di magia,
volete leggere un bel fantasy senza troppe pretese, ambientato in oriente.
Il mio voto:
Che ne pensate? Lo aspettavate? Fatemi sapere!
A presto,
Silvy