Buongiorno!
Poco prima di mezzanotte ho concluso la lettura di questo bellissimo libro che mi ha conquistata, uscito da poco per Newton Compton, perciò ora ve ne parlo per bene ;)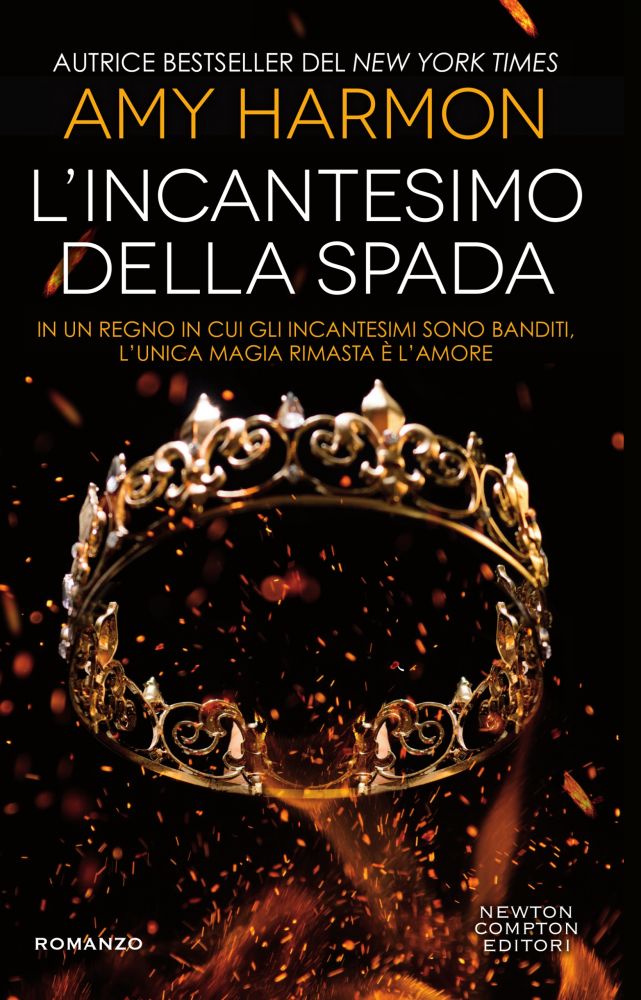 Titolo: L'incantesimo della spada
Autrice: Amy Harmon
Casa editrice: Newton Compton
Data d'uscita: 5 luglio 2018
Pagine: 379
Prezzo: €12,00 (ebook €4,99)
TRAMA
In un regno in cui gli incantesimi sono banditi, l'unica magia rimasta è l'amore
«Deglutisci, figlia. Ingoia le parole, bloccale nel profondo della tua anima. Nascondile, chiudi la bocca sul tuo potere. Non maledire, non curare. Non parlerai, ma imparerai. Silenzio, figlia. Rimani viva».
Il giorno in cui mia madre è stata uccisa, ha detto a mio padre che non avrei mai più pronunciato una sola parola e che se fossi morta, lui sarebbe morto con me. Predisse anche che il re avrebbe venduto la sua anima e avrebbe ceduto suo figlio al cielo. Da allora mio padre attende di poter avanzare la sua pretesa al trono e aspetta nell'ombra che tutte le parole di mia madre si avverino. Desidera disperatamente diventare re. Io voglio solo essere finalmente libera. Ma la mia libertà richiede una fuga e io sono prigioniera della maledizione di mia madre tanto quanto dell'avidità di mio padre. Non posso parlare o emettere suoni. Non posso impugnare una spada o ingannare un re. In un regno in cui gli incantesimi sono stati banditi, l'unica magia rimasta potrebbe essere l'amore. Ma chi potrebbe mai amare… Un uccellino?
La duologia:
1. L'incantesimo della spada (The Bird and the Sword)
2. The Queen and the Cure
RECENSIONE
Avevo sentito parlare molto bene di questo romanzo, la svolta fantasy di Amy Harmon, scrittrice che adoro. In più, le bellissime fanart di
PhantomRin
dedicate ai protagonisti mi hanno fatta innamorare d loro ancora prima di iniziarlo (ve ne lascio qualcuna qui sotto) e hanno aumentato ancora di più la mia curiosità, perchè prevedevo una grande ship, e così è stato. Vi basti sapere che l'ho letto in un giorno per capire quanto mi sia piaciuto.
Il worldbuilding creato dalla Harmon è semplice, ma ben fatto: siamo in un mondo in cui la magia è stata proibita, ma tra gli abitanti del regno di Jeru esistono ancora moltissimo possessori dei doni: si narra, infatti, che Dio abbia creato due donne e due uomini, ciascuno con quattro poteri (la tessitrice può cambiare le cose con un'illusione, l'indovina predice il futuro, il guaritore cura tutti i male e il mutante può trasformarsi in qualsiasi animale) e per questo molti uomini hanno ereditato quegli stessi poteri. A lungo andare, però, l'odio per la magia crebbe e i sovrani cominciarono a perseguitare chi ne era in possesso. La madre di Lark muore perchè è un'indovina, ma prima esalare l'ultimo respiro preannuncia che la figlia non avrebbe più parlato e, per proteggerla, aggiunge che se morirà lei, morirà anche suo padre. Da quel giorno, Lark non parlò più, ma quando incontrerà Tiras, il sovrano e il figlio di colui che ha ucciso sua madre, la sua vita cambierà per sempre e troverà un altro modo per usare le sue parole e per combattere la minaccia che circonda il regno. Non aggiungo altro della trama perché ci sono dei colpi di scena che devono essere scoperti solo leggendo. Ho amato i due protagonisti: Lark è all'apparenza piccola, minuta, invisibile come un uccellino, una piccola allodola, ma dentro è forte, coraggiosa e una vera guerriera, che però è più di una semplice spada, perché usa le parole, che spesso sono più taglienti. Tiras è un personaggio che all'inizio mi è parso enigmatico, ma che poi si rivela un uomo buono, che farebbe di tutto per proteggere il suo regno, anche sacrificarsi per coloro che ama. Insieme, poi, sono davvero bellissimi, le loro scene sono evocative, romantiche e dolci.
Interessantissimi anche i personaggi secondari, in particolare Boojohni, un piccolo troll, unico amico e alleato di Lark prima che arrivasse Tiras, a cui mi sono affezionata moltissimo: è buono, premuroso, pronto a tutto per aiutare e proteggere Lark.
In questo nuovo romanzo, la Harmon vuole insegnarci l'importanza delle parole, come le parole giuste, se usate bene, salvano. E lei lo sa alla perfezione, perché è in grado di usarle: il suo stile magico, elegante e ricercato ci trasporta all'interno del mondo che ha creato per farci vivere non solo una storia d'amore (in fondo, è pur sempre un'autrice romance), ma anche una storia di coraggio, di magia e soprattutto di scoperta di sé.
Nonostante il romanzo sia autoconclusivo, con un finale tutto suo (e bellissimo, a mio avviso), sono comunque molto curiosa di leggere il romanzo companion, con protagonista un personaggio che conosciamo già in questo primo libro.
Il mio voto:
Che ne pensate? L'avete letto? Lo leggerete? Fatemi sapere!
A presto,
Silvy