Buongiorno a tutti!!
Io ho la febbre da venerdì sera, per questo non ho ancora pubblicato un paio di recensioni che volevo scrivere proprio nei giorni scorsi! Ma arriveranno presto, don't worry :)
Intanto vediamo quali sono state le news di questa settimana:
Cover reveal del prossimo romanzo di Colleen Hoover, in uscita in America ad agosto! Non bellissima, di più *-*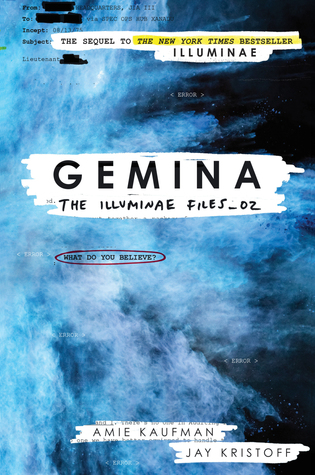 Arriverà ad ottobre negli USA "Gemina", il seguito di "Illuminae", romanzo molto amato dagli americani.
In uscita il 29 novembre, ecco la cover di "The fate of the Tearling", ultimo della trilogia!
Il prossimo mese sarà spettacolare, poichè sicuramente tre autrici saranno in Italia: Colleen Hoover e Anna Todd faranno un tour insieme a partire dal 29 marzo e toccheranno più città!
Stessa cosa per Veronica Roth, che arriverà il 3 aprile. Presto usciranno le date ;)
E potrei avere una news succulenta per voi: c'è la possibilità (è ancora tutto in fase di organizzazione) che anche Cassandra Clare faccia un salto nel nostro paese!! Non si sa ancora dove e quando (anche se probabilmente ad aprile), ma vi terrò aggiornati ;)
Nuova duologia in arrivo per Marie Lu: il primo libro, Warcross, uscirà nell'autunno 2017, mentre il secondo nel 2018.
Vediamo qualche news italiana:
- Come vi avevo già accennato nelle scorse settimane, usciranno prestissimo per HarperCollins Italia "Firebird. La difesa" (probabilmente ad aprile) e "Ovunque con te" di Katie McGarry, primo di una nuova serie YA.
- Abbiamo notizie ufficiali anche dalla Mondadori: Cress uscirà il 26 aprile, mentre "La corona di fuoco" della Maas il 30 agosto!
- "Oblivion" sarà diviso in 3 libri: il primo, quello che esce il 13 aprile, si chiamerà "Obsidian attraverso gli occhi di Daemon. Oblivion vol. 1", mentre gli altri due usciranno prossimamente.
Uscirà il 30 settembre in America il film "Miss Peregrine's Home for Peculiar Children", diretto da Tim Burton e tratto dall'omonimo romanzo.
QUI
e
QUI
trovate le prime immagini dal film!
E per questa settimana è tutto!! Che ne pensate? Cosa vi entusiasma di più? ;) Fatemi sapere!
Alla prossima,
Silvy