Buongiorno a tutti!
Anche le news sembrano essere andate in vacanza, ma quelle poche che ci sono sembrano molto interessanti ;) Venite a scoprirle!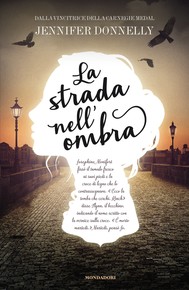 Sul web è apparsa la cover di un prossimo romanzo firmato Mondadori, ovvero "La strada nell'ombra" di Jennifer Donnelly (conosciuto come "These Shallow Graves"), in uscita il 20 settembre. Lo stesso giorno dovrebbe uscire anche la ristampa di un altro romanzo dell'autrice, "Una voce dal lago".
Grande news per i fan di Cassandra Clare: ad aprile 2017 (lo stesso mese di Lord of Shadows *-*) uscirà in America anche il Coloring Book di The Mortal Instruments, con 45 nuove illustrazioni di Cassandra Jean distribuite in 98 pagine! <3
E' stato annunciato che quella di Sabaa Tahir non sarà più una trilogia, ma avrà 4 libri! Ricordo che in Italia il seguito de "Il dominio del fuoco" uscirà nel 2017!
And last but not least, FINALMENTE abbiamo qualche immagine dal set di Fallen!!! Questa che vi ho postato è una, le altre le trovate tutte su questo account Twitter (https://twitter.com/surprisefallen), che è stato notato e seguito anche da Lauren stessa!
E questo è tutto! Che ne pensate? Fatemi sapere ;)
A presto,
Silvy