Buongiorno!!
Iniziamo la settimana con la recensione del nuovo romanzo di Elle Kennedy, in uscita oggi in ebook per Newton Compton (che ringrazio per la copia!). Si tratta di un new adult sportivo, secondo di una serie di autoconclusivi, e se non l'avete ancora iniziata, allora dovete farlo al più presto <3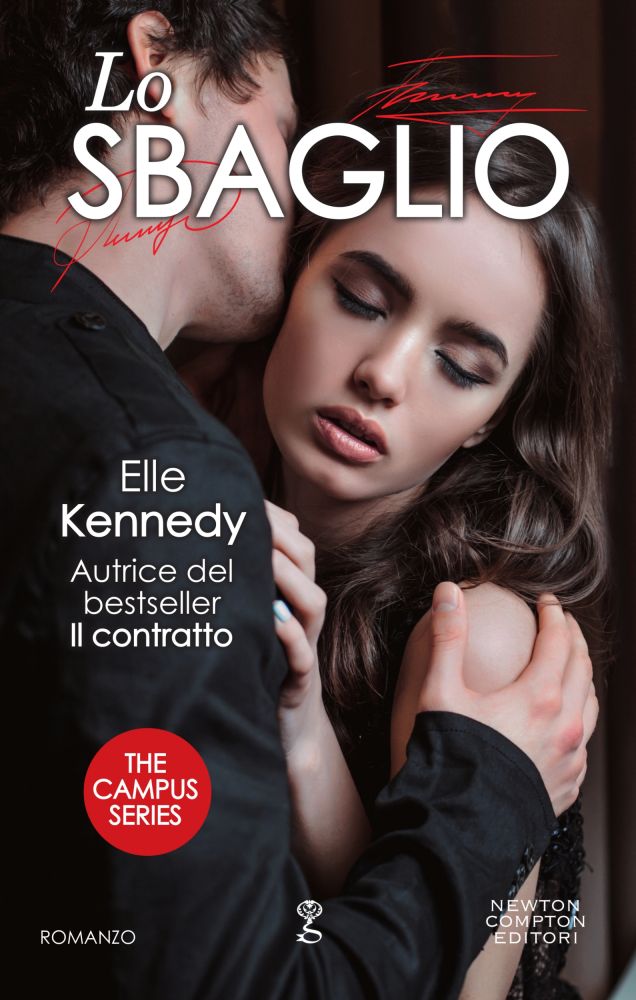 Titolo: Lo sbaglio
Autrice: Elle Kennedy
Casa editrice: Newton Compton
Data d'uscita: 27 febbraio 2017
Prezzo: ebook €2,99
TRAMA
John Logan, tra i ragazzi più popolari dell'università, può avere qualsiasi ragazza. È una stella dell'hockey, ha fascino da vendere e nessuno ha il coraggio di negargli nulla. Ma dietro il suo sorriso assassino e quei modi di ragazzo sicuro di sé, si nasconde una crescente disperazione per quello che lo aspetta dopo la laurea. Una strada senza uscita e il progetto di una vita in cui non si riconosce. Un incontro sexy con la matricola Grace Ivers è la distrazione perfetta per non pensare al futuro, ma quando per un banale errore manda a monte la loro avventura, Logan decide che trascorrerà l'ultimo anno cercando di ottenere una seconda possibilità. Questa volta però le regole del gioco le detta lei, e non ci saranno concessioni né scorciatoie…
La serie Off-Campus:
1. Il contratto (The Deal)
2. Lo sbaglio (The Mistake)
3. The Score
4. The Goal
RECENSIONE
Ho letto il primo libro di questa serie la scorsa estate e mi era piaciuto moltissimo, perciò le mie aspettative per la storia di Logan erano piuttosto alte.
Nel complesso mi è piaciuto, ma cercherò di spiegarmi meglio con questa recensione.
Avevamo già incontrato John Logan ne "Il contratto", e potreste ricordarlo perché aveva una cotta per la ragazza del suo migliore amico. In questo romanzo a lui dedicato, lo vediamo alle prese con questo problema e con i tentativi di andare oltre questa cotta. Ma potremo anche scoprire la sua storia familiare, che non è delle più semplici, e che anzi potrebbe mettere in pericolo il suo futuro da giocatore di hockey professionista.
L'incontro con Grace avviene per puro caso: il ragazzo sta cercando la stanza di un suo amico, ma non si ricorda più quale sia, perciò bussa ad una e si ritrova una ragazza ad aprirgli. Non vi dico altro per non rovinarvi la lettura, ma sin da subito scopriamo che Grace è una matricola ancora vergine, la tipica brava ragazza insomma, che però ha deciso di buttare all'aria la prudenza e iniziare a godersi la vita del college.
Tra i due scatterà la scintilla dell'attrazione, ma un errore di Logan potrebbe constargli la relazione con la ragazza che egli non riesce a togliersi dalla testa. Ce la farà a rimediare e a riconquistarla?
Come dicevo prima, complessivamente mi è piaciuto molto, ma la prima parte della storia mi ha lasciata un po' confusa: da una parte mi è sembrata un po' lenta, ma dall'altra il rapporto tra i due protagonisti mi sembra che sia quasi partito in quarta. La seconda parte, invece, mi ha coinvolta molto di più lasciandomi spesso con gli occhi a cuoricino e il cuore impazzito a causa di John Logan *-*
Nonostante Garrett rimanga al primo posto (per ora), devo dire che anche Logan riesce perfettamente a conquistare le sue lettrici: la sua determinazione nel riconquistare il cuore della bella Grace, superando addirittura una serie di prove per rimediare all'errore che ha commesso, costituisce sicuramente un punto a suo favore.
Grace è una protagonista che mi è piaciuta, perché nonostante sia vergine, non è la classica brava ragazza timida e insicura, ma ha grinta e forza da vendere.
Sono stata molto contenta di vedere che la storia tra Hannah e Garrett stia proseguendo a gonfie vele e ormai posso dire che siano diventati una delle mie coppie romance preferite <3
Lo stile della Kennedy mi ha, ancora una volta, conquistata: è scorrevolissimo, molto semplice ma intrigante, e il doppio punto di vista permette al lettore di godersi la storia a 360°.
Sono andata a sbirciare chi saranno i protagonisti dei prossimi due romanzi, e adesso la mia curiosità è al massimo. Spero che la Newton non ci faccia attendere molto per il terzo libro!
Il mio voto:
Che ne pensate? Chi lo aspettava? Fatemi sapere!
A presto,
Silvy