Buongiorno!
Per il TTT di oggi vediamo le 10 serie che volevo iniziare ma non l'ho ancora fatto, principalmente per mancanza di tempo :(
Ecco le caratteristiche delle 10 serie che vi presenterò:
- saranno tutte concluse (almeno in inglese);
- saranno, per l'appunto, delle serie, quindi composte da almeno due libri;
- non le ho ancora iniziate, ma bramo di leggerle da anni, almeno 3/4;
- ovviamente ce ne sarebbero tante altre, ma queste sono quelle che più non vedo l'ora di cominciare.
Non a caso vi metto per prima la serie delle Cronache Lunari, visto che proprio oggi esce per Mondadori "Winter", l'ultimo romanzo della serie (se non si contano novelle, raccolte di short stories e graphic novel, ovviamente!)
Altra serie che proprio vorrei leggere è quella dei Raven Boys della Stiefvater, anche se in Italia l'hanno interrotta dopo il secondo :(
Ho sentito parlare solo bene di questa trilogia della trilogia della Rutkoski e finalmente arriverà in Italia quest'autunno grazie a Leggereditore *-*
Un'altra autrice che non vedo l'ora di scoprire è la Schwab: ho già a casa "Questo canto selvaggio" che mi aspetta, ma fremo all'idea di mettere le mani sulla serie di "A darker shade of magic" che uscirà prossimamente per Newton! <3
Non ci credo che non ho ancora cominciato la serie spin-off dell'Accademia dei Vampiri!! Io ho adorato quei libri e vorrei avere giornate da 48 ore per riuscire a recuperare tutto :(
Questa serie la tengo d'occhio già da qualche anno, e ora che stanno girando il film abbiamo la certezza che l'anno prossimo arriverà anche qui, grazie a Sperling <3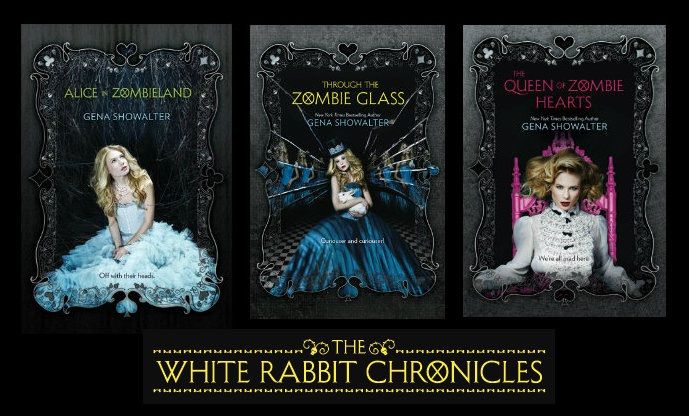 Altra serie di cui ho sentito parlare benissimo è quella della Showalter: in Italia è uscito il primo in cartaceo, mentre gli altri 3 (sì, perché in realtà sono 4 libri, anche se la foto non mostra l'ultimo) solo in digitale per la collana eLit di HarperCollins Italia!
Potevo non mettere la Bardugo? Ho a casa i primi due libri della sua prima trilogia, ma ho sentito cose strabilianti sulla duologia spin-off, quella di Six of Crows *-*
Ho scoperto quest'autrice un paio di anni fa e ne ho sentito parlare bene finora, perciò sono curiosa di mettere le mani sulla sua duologia di debutto :)
Concludo con una duologia tutta italiana che ho in wishlist da molto tempo: sto parlando di "Millenio di Fuoco" di Cecilia Randall che mi incuriosisce troppo! <3
Che ne pensate? Come rispondereste voi al tema di oggi? Fatemi sapere!!
A presto,
Silvy