Buondì!
Dopo avervi parlato per bene del romanzo nella recensione (la trovate
qui
), oggi vediamo qualche chicca sul film che uscirà il 14 agosto ;)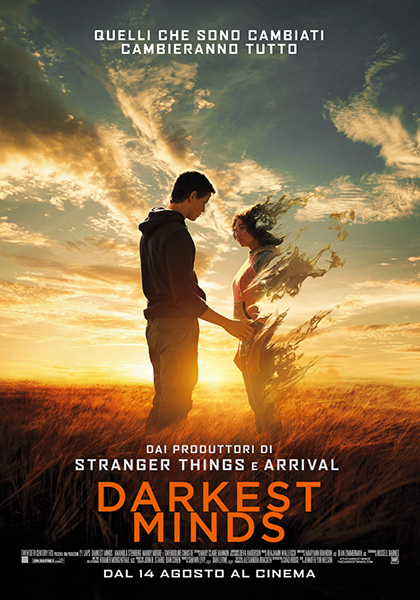 Titolo: Darkest Minds
Regia: Jennifer Yuh Nelson
Data d'uscita: 14 agosto 2018
Casa di distribuzione: 20th Century Fox
Durata: 105 minuti
TRAMA
Basato sulla serie di libri di Alexandra Bracken, Darkest Minds segue la storia della sedicenne Ruby, interpretata da Amandla Stenberg (Hunger Games).
Dopo che una malattia sconosciuta ha ucciso il 98% dei bambini, il 2% dei sopravvissuti sviluppa misteriosamente dei superpoteri. Proprio a causa delle loro straordinarie abilità, i ragazzi vengono dichiarati una minaccia dal governo e rinchiusi in campi di interamento. È proprio Ruby che sceglie di radunare i suoi compagni e scappare dal campo, ma arriva il momento in cui fuggire non è più sufficiente: i ragazzi dovranno resistere e combattere contro gli adulti che li hanno traditi.
GENERE
Fantascienza | Thriller/Suspense
CAST
Amandla Stenberg (Hunger Games, Noi siamo tutto, The Hate U Give)
Gwendoline Christie (Il Trono di Spade)
Mandy Moore (This Is Us)
Harris Dickinson
TRAILER


IL LIBRO
Titolo: Darkest Minds
Autrice: Alexandra Bracken
Casa editrice: Sperling & Kupfer
Data d'uscita: 24 luglio 2018
Pagine: 360
Prezzo: €17,90 (ebook €4,99)
TRAMA
Quando Ruby si sveglia il giorno del suo decimo compleanno, qualcosa in lei è cambiato. Qualcosa di abbastanza preoccupante da costringere i genitori a mandarla a Thurmond, un brutale campo di riabilitazione gestito dal governo dove sono rinchiusi i giovani come lei. Ovvero, i giovani che sono riusciti a sopravvivere alla misteriosa malattia che ha decimato la popolazione e che da allora sembrano aver acquisito poteri speciali. Ci sono i Verdi, dotati di un'intelligenza eccezionale; i Blu, di telecinesi; i Gialli, che controllano l'elettricità; i Rossi il fuoco e gli Arancioni, come Ruby, la mente umana. Ora Ruby ha sedici anni ed è riuscita a scappare da quell'inferno, ma per lei l'incubo non è ancora finito. Durante la sua fuga, però, incontra un gruppo di ragazzini evasi come lei: Zu, Ciccio e Liam, carisma da leader e decisamente carino. Ma Ruby non può rischiare di avvicinarsi a lui. Sarebbe troppo pericoloso. E, in viaggio verso l'unico rifugio sicuro, ci sono già fin troppi pericoli da affrontare...
La serie:
1. Darkest Minds (titolo originale: The Darkest Minds)
2. Never Fade (prossimamente in Italia)
3. In the Afterlife
3.5 Through the Dark (raccolta di novelle)
4. The Darkest Legacy
Che ne pensate? A me sembra un film ben fatto e con una trama abbastanza fedele al romanzo (che vi ricordo è uscito il 24 luglio per Sperling & Kupfer e prossimamente arriverà anche il secondo della trilogia). Gli attori, da quel poco che ho visto, mi piacciono e ha tutte le carte in regola per fare successo. Non ci resta che incrociare le dita e aspettare il 14 agosto:)
Non dimenticatevi di seguire tutte le tappe del blogtour per scoprire qualche dettaglio in più sul romanzo (vi ricordo che
qui
c'è anche la mia recensione).
Che ne pensate? Andrete a vedere il film? Vi ispira? Fatemi sapere!
A presto,
Silvy