Buongiorno!
Oggi vi voglio parlare del nuovo romanzo della Hoover che ho letto settimana scorsa e che mi è piaciuto molto! Non vi ho tradotto la trama perché sono stata a Londra e non ho avuto tempo, scusate :)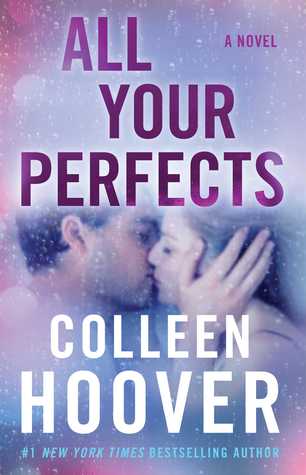 Titolo: All Your Perfects
Autrice: Colleen Hoover
Data d'uscita (inglese): 17 luglio 2018
Pagine: 308
Prezzo: 13,48 (ebook €9,39)
TRAMA
Quinn and Graham's perfect love is threatened by their imperfect marriage. The memories, mistakes, and secrets that they have built up over the years are now tearing them apart. The one thing that could save them might also be the very thing that pushes their marriage beyond the point of repair.
All Your Perfects is a profound novel about a damaged couple whose potential future hinges on promises made in the past. This is a heartbreaking page-turner that asks: Can a resounding love with a perfect beginning survive a lifetime between two imperfect people?
RECENSIONE
Questa recensione è un po' diversa dal solito perché non vi dirò niente della trama se non lo stretto necessario: penso che sia uno di quei libri da gustare senza sapere nulla. Vi basti pensare che non ho nemmeno letto la trama su Amazon o Goodreads prima di iniziarlo.
In All Your Perfects la Hoover ha voluto provare qualcosa di nuovo: parlare di una coppia già sposata e come questa riesce a superare una crisi.
Ma poiché la Hoover non si smentisce mai, ha deciso di alternare capitoli del "prima" e dell' "ora": in quelli del prima ci mostra come Quinn e Graham si sono conosciuti e innamorati, con il solito stile che ormai conosciamo, mentre in quelli al presente ce li mostra qualche anno dopo le nozze, con un matrimonio che sta andando a rotoli per colpa delle cose non dette, dei segreti e di una situazione insormontabile che purtroppo capita a molte coppie.
"What's the secret to a perfect marriage?' The old man leaned forward and looked at me very seriously. 'Our marriage hasn't been perfect. No marriage is perfect. There were times when she gave up on us. There were even more times when I gave up on us. The secret to our longevity is that we never gave up at the same time."
Grazie a questa alternanza di capitoli, non solo scopriamo anche i retroscena della loro storia, ma le nostre emozioni impazziscono: i capitoli del passato, infatti, sono quasi sempre romantici e vi faranno sciogliere il cuore, per poi girare pagina e ritrovarsi disperati per la loro situazione attuale.
Per quanto riguarda i protagonisti, ho amato alla follia Graham, soprattutto quello del passato: è il classico book boyfriend perfetto che la Hoover sa sfornare sempre, anche se nel presente fa una cosa che mi ha fatta un po' arrabbiare, ma in fondo sbagliare è umano.
Nonostante Quinn mi sia piaciuta, non sono riuscita a immedesimarmi al 100% nella protagonista, perché non ho vissuto in prima persona quello che lei ha passato, ma mi ha fatto capire un po' meglio come si deve sentire una donna che la affronta. Sicuramente quello dell'infertilità è un argomento di cui si parla poco, ma estremamente importante, perciò un grazie a Colleen per averlo trattato.
Come sempre, mi è capitato in più punti che qualche lacrima scendesse, ma è successo soprattutto in uno degli ultimi capitoli: vi posso assicurare che il finale è molto bello, in perfetto stile Colleen Hoover, e che qualche lacrima è assicurata.
Vi consiglio questo ennesimo bellissimo romanzo della Hoover perché merita di essere letto per il tema, per la complessità dei personaggi e il loro realismo, per la bellezza dello stile narrativo e per le emozioni che vi fa provare. Niente di nuovo, insomma, sempre la cara vecchia zia Colleen ;)
"If you only shine light on your flaws, all your perfects will dim."
Il mio voto:
Che ne pensate? Lo aspettavate? Lo leggerete? Fatemi sapere!
A presto,
Silvy