Buondì!!
Oggi vi parlo di "If I Should Die" di Amy Plum, l'ultimo romanzo di una trilogia che mi ha conquistata, uscito martedì per De Agostini.
Oltre alla mia recensione, alla fine del post troverete una curiosità direttamente dall'autrice, e se seguirete questo review tour le scoprirete tutte e 5 *-*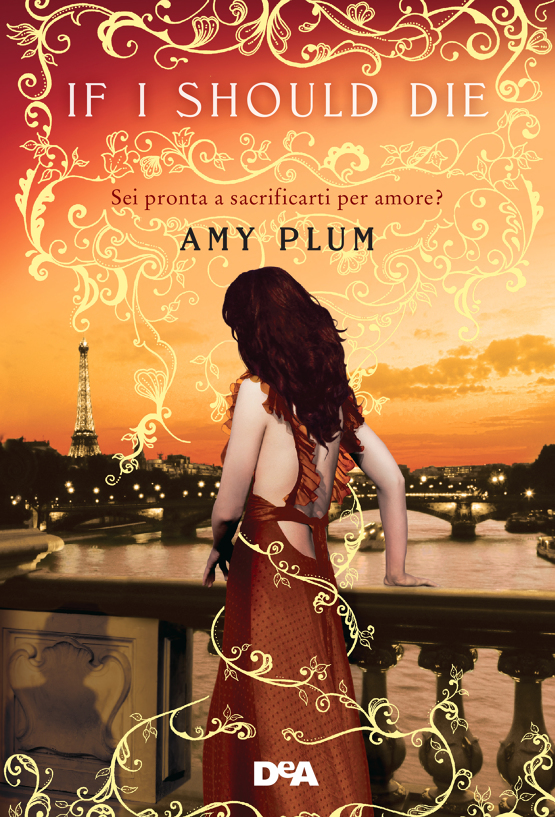 Titolo: If I Should Die
Autrice: Amy Plum
Casa editrice: De Agostini
Data d'uscita: 15 novembre 2016
Pagine: 496
Prezzo: €14,90 (ebook €6,99)
TRAMA
Com'era la vita di Vincent prima di incontrarmi, prima di scoprire l'amore? Decenni di dolore e sacrificio, passati ad appagare la sua natura di revenant, a morire e a risorgere per salvare migliaia di innocenti. E proprio ora che credevamo di avere il futuro nelle nostre mani, siamo stati traditi nel peggiore dei modi da chi consideravamo un'alleata e un'amica. Mi fidavo di Violette, e lei ha portato via il mio amore per annientarlo e assorbire così i suoi poteri. Ora, senza più un corpo in cui tornare, Vincent vaga in forma di spirito sulla Terra. Non potrò più vederlo, toccarlo, sentire le sue dita che mi sfiorano i capelli… non potrò più rifugiarmi tra le sue braccia e annegare nei suoi baci. Eppure sento che non tutto è ancora perduto. Per salvarlo sono disposta a pagare qualunque prezzo, anche a immolare la mia anima. Perché non posso immaginare di trascorrere un solo giorno senza di lui. Non dopo tutto quello che abbiamo condiviso e sofferto. E adesso che i nostri nemici hanno compiuto la loro mossa, non mi resta che una cosa da fare: combattere.
La trilogia "Revenants":
1. Die for Me
2. Until I Die
2.5 Die for Her (novella inedita)
3. If I Should Die
3.5 Die Once More (novella inedita)
- Inside the World of Die for Me (guida alla serie)
Recensione
Non vedevo l'ora di vedere come si sarebbe conclusa questa trilogia che a mio avviso è molto originale e interessante.
Amy Plum ci aveva lasciato con l'amaro in bocca alla fine di "Until I Die", quando sembrerebbe che per Vincent non ci siano più speranze di riabbracciare la sua Kate.
In questo terzo e ultimo volume della trilogia, vedremo i tentativi di Kate per salvare Vincent e per sconfiggere una volta per tutte la malvagia Violette.
Non voglio svelarvi troppo della trama perchè meritate di gustarvi il libro senza spoiler, ma sappiate che grazie al ritmo calzante e allo stile fluido, sono sicura che lo divorerete e lo gusterete quanto ho fatto io. Non mancano i colpi di scena, le scene romantiche ma anche quelle d'azione.
Nonostante il finale sia forse un po' prevedibile, non ho potuto fare a meno di amarlo e di congratularmi con l'autrice per la bellissima serie che ha scritto.
Partendo dai personaggi, la mia cotta per Vincent è cresciuta a dismisura in questo romanzo: per colpa sua le mie aspettative nei confronti dei ragazzi sono aumentate fin troppo, e non accetterò nessuno che non mi chiami "Mon Ange" o "Mon amour". Ma oltre ad essere romantico, Vincent si è dimostrato forte e coraggioso. Il ragazzo perfetto, insomma!
L'amore tra Vincent e Kate è uno di quelli che più mi fa battere il cuore, perchè la loro storia è dolce e vera, e nonostante non manchino i problemi e le difficoltà, riescono sempre a risolverli senza drammi, tradimenti o triangoli amorosi. Quei due sono un toccasana per il mio povero cuore.
Mi è piaciuto anche come si è evoluto il personaggio di Kate dall'inizio della serie: da ragazza distrutta per la morte dei genitori, si arriva ad una guerriera che lotta per amore e per ciò che crede giusto.
Per quanto riguarda le ambientazioni, stavolta vedremo poco della Parigi romantica che abbiamo visto nei due libri precedenti, ma sarà una Parigi più battagliera e visiteremo anche New York.
Ho apprezzato moltissimo anche i personaggi secondari, a partire da quelli nuovi per ritornare a quelli che già conosciamo. In particolar modo Jules, che in questo libro non ha avuto mlto spessore, ma che fortunatamente rivedremo in una novella a lui dedicata (speriamo che la DeA decida di pubblicarla, magari come regalino di Natale *-*).
Per concludere, posso dire che questa trilogia avrà sempre un posticino nel mio cuore da inguaribile romantica, per la sua dolcezza, ma anche per l'originalità e per il mondo che l'autrice ha saputo creare.
Consigliata sicuramente ai romantici là fuori, ma anche a coloro che apprezzano una buona serie paranormal YA, senza triangoli ma con tanto amore e anche il giusto pizzico di azione.
Il mio voto:
Curiosità dall'autrice
L'idea di Die For Me mi è arrivata con il personaggio di Kate, ma è stata la frase "Dieci giorni dopo il mio sedicesimo compleanno i miei genitori sono morti in un incidente d'auto" ad aiutarmi a capire chi fosse e cosa provasse. Dopo di questo ho dovuto solo capire di quale creatura si sarebbe innamorata.
Non perdetevi le altre tappe per scoprire tutte le curiosità:
Che ne pensate? Aspettavate anche voi il terzo libro? O inizierete presto la serie? Fatemi sapere!